January 22, 1942, Diary entry by Gihachi, translated from Japanese.
Barracks 14, Ft Missoula, Montana
Dec 8, 1941 1:30AM: This is a day I will never be able to forget. I was shaken awake by two FBI agents who said something about having to ask me some questions, and [I] was made to accompany them to the police station and spent four days at the Lincoln Heights jail, and on the 12th I was transferred to the county jail, and I was there until the 22nd.

Over the 10 days I was at this place, my wife came twice and Yetsuko came once to visit me here. Even when my family came we couldn't speak in Japanese, and during the whole conversation a guard was there with us. On the afternoon of the 22nd I was moved to Tuna [Canyon] Camp where many other Japanese were. I saw that there were many people [I knew] being held at Tuna [Canyon].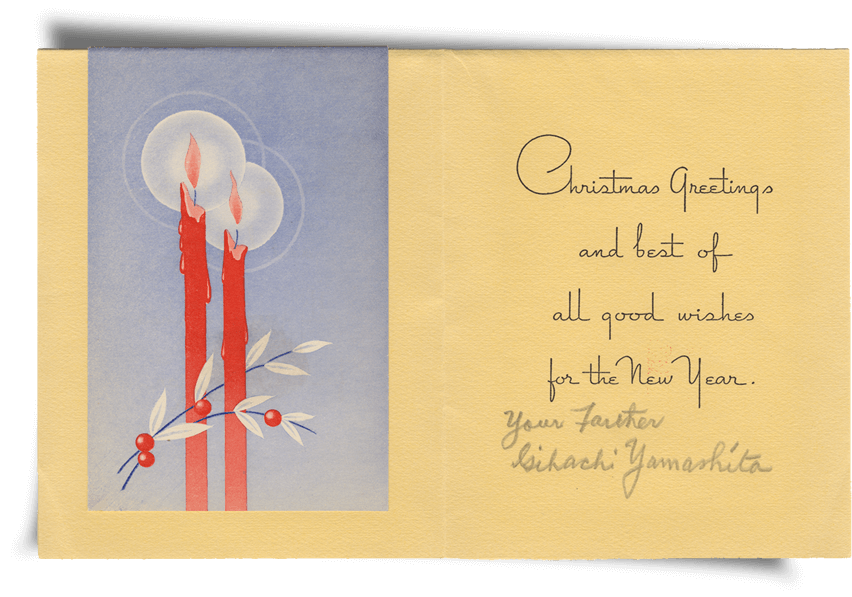 January 22, 1942, Diary entry by Gihachi, translated from Japanese.
I spent two days at this facility and on the 25th — that is, Christmas—we were going to be transferred to Montana….The rain that had started to fall finally turned into a downpour by the time we were transferred to the train.
We traveled through the night and by daybreak we found we'd reached Fresno. From there [we went on] to Sacramento and then on to the coast to Portland. We made a stop at this city and Japanese who had been held in this area boarded the train. When we departed Los Angeles the train was five cars long but by the time we arrived in Missoula, it had become eleven. In going from Los Angeles to Missoula, I was not given the chance to prepare any winter wear, so I was wearing leather shoes and silk socks and no overcoat—truly unsightly.

We rode the train for three nights and around 8 in the morning on December 28, we arrive at our last internment center, Missoula, Montana. From the train we were put on a 28-person bus and taken to the administrative building.
There were a total of 630-some internees and the authorities had allowed us to govern ourselves.
January 22, 1942, Diary entry Gihachi, translated from Japanese.
We arrived on December 28, and from about the 30th the cold intensified and finally from the 31st to New Years Day I learned of the cold spells of Montana. For about ten days these freezing temperatures continued, [with temperatures] that reached as low as about -17 [F], but average temperatures were around -3 to -4 [F]. From around Jan 15 the cold spell lifted and temperatures got up to 20-30 degrees [F].
From around January 10 I caught a cold, and for exactly a week I rested in bed.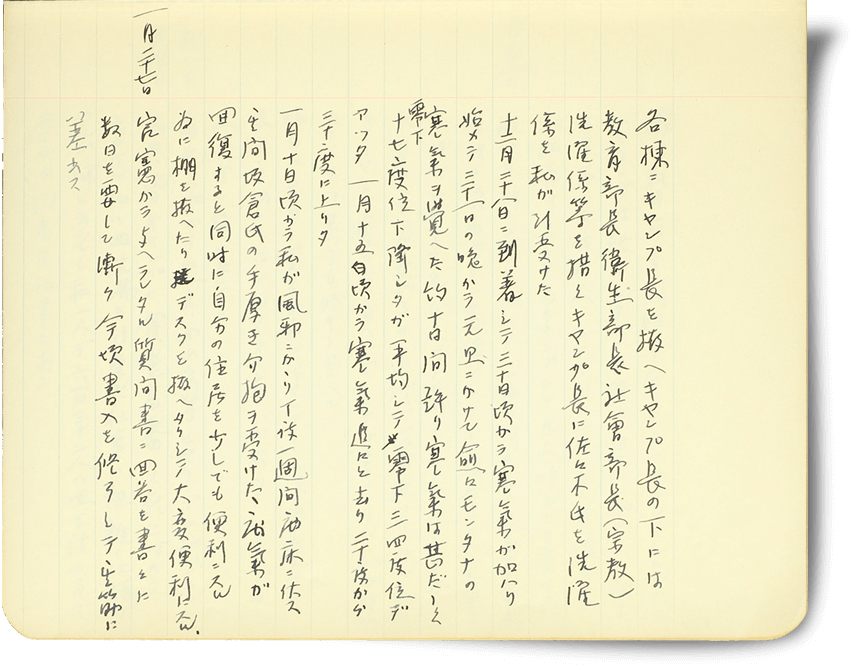 Captions for above images